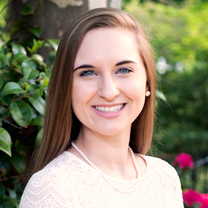 Curator of Special Projects
Catherine Nuzum joined the staff at Dumbarton House in 2014 as the NSCDA Membership Assistant and has since moved into the role of Curator of Special Projects for the NSCDA in 2017. In her current role, Catherine serves as the National Headquarters liaison to the many museum properties of the NSCDA and oversees museum-centric initiatives found within the long-term NSCDA strategic plan, primarily the launch and cultivation of a dedicated NSCDA Museum Alliance.
Catherine, who hails from North Carolina, has a BA in both Studio Art and Art History from Salem College and an MA in Art and Museum Studies from Georgetown University.
Catherine joined Dumbarton House in 2014.
Fun Fact: Catherine and her husband, who share a deep love of the National Park Service, have visited nearly every NPS site within a four hour drive of Alexandria, VA and never leave for a vacation without packing their NPS passport. Catherine's favorite NPS site (so far) is Dry Tortugas, and her number one bucket list site is the National Park of American Samoa!