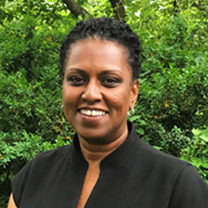 Director of Finance & Administration
Evelyn joined Dumbarton House as the Business Manager in May 2018. In this role, Evelyn supports financial operations, human resource management and other institutional efforts.
Her previous work experience includes retail banking, non-profit management, entrepreneurship and government/private grant management, as well as financial management. Evelyn holds a BSBA in Finance from Duquesne University and is a Georgetown University MBA. Having grown up on the island of St. Croix surrounded by the legacy of its rich history as having been part of the Danish West Indies and six other countries, Evelyn loves visiting other historical places. Whenever, she is visiting a new city or town, she tries to sneak in at least one visit to a museum or national park.
Working at Dumbarton gives Evelyn inside view of a historic house museum, which makes up (somewhat) for giving up the sunshine and sandy beaches.
Evelyn joined Dumbarton House in 2018.