Centering Indigenous Voices in Historic House Museums Virtual Panel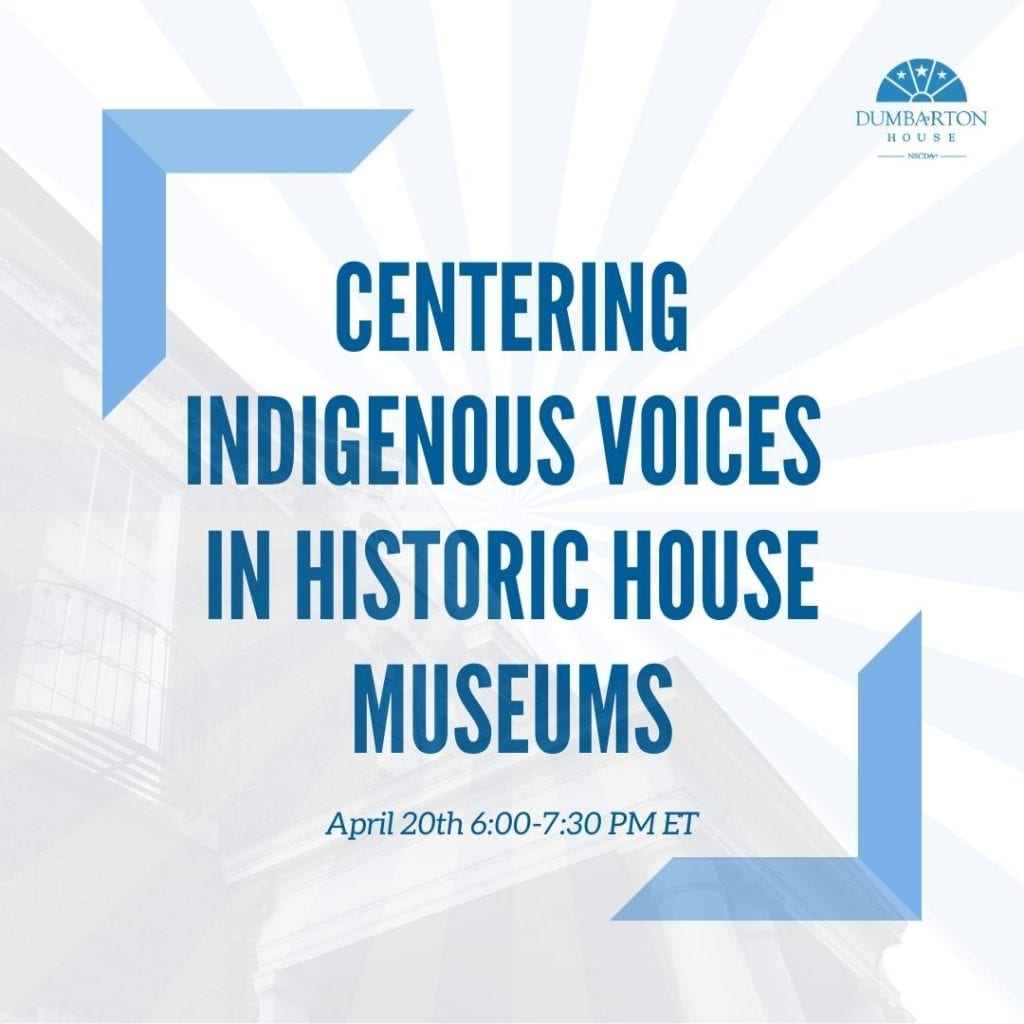 For thousands of years before the foundation of Dumbarton House, Indigenous nations stewarded the land and developed intricate cultures that continue to thrive today, with 574 recognized Tribes in the United States alone. Dumbarton House was built on unceded Piscataway and Nacotchtank land and seeks to honor and acknowledge Tribal connections to the land the museum currently occupies. In order to address these histories, Dumbarton House is hosting a panel titled: "Centering Indigenous Voices in Historic House Museums."
The panel will inform museums, historic houses, and the public of ways to center Indigenous peoples and narratives. Through engagement between Native and non-Native scholars, activists, and museum professionals participating in the panel, the conversation will drive public awareness surrounding Indigenous sovereignty and survivance. Further, the panel will discuss strategies for implementing Decolonial practices in historic houses and museums. Continue to follow Dumbarton House on social media and check our website for more event updates and information about the panelists.
Please note this is a virtual program. There is no in person component at Dumbarton House. Attendees will receive the zoom link with their confirmation email from Ticketleap.
Moderator: MERANDA ROBERTS, PhD, Northern Paiute (she/her)
Meranda Roberts is an enrolled member of the Yerington Paiute Tribe in Nevada, as well as Chicana. In 2018, she earned her PhD from the University of California, Riverside in Native American History. Over the past few years, she has been working as a post-doctoral researcher at the Field Museum of Natural History, where she is developing content for the renovation of the museum's seventy-year-old Native American exhibition hall. Meranda also recently co-curated the exhibition Apsáalooke Women and Warriors with tribal member and scholar Nina Sanders.
Meranda's passion lies in holding colonial institutions, like museums, accountable for the harmful narratives they have painted about Indigenous people. She is also dedicated to reconnecting Indigenous collection items with their descendants. Through the use of Indigenous methodologies, as well as public history pedagogy, Meranda examines the harm colonialism continues to inflict onto Indigenous communities and how public institutions can correct these wrongs.
HEATHER BRUEGL, Historian and Lecturer (she/her/hers)
Heather Bruegl, a member of the Oneida Nation of Wisconsin and first line descendent Stockbridge Munsee, is a graduate of Madonna University in Michigan and holds a Bachelor of Arts and Master of Arts in U.S. History. Inspired by a trip to Wounded Knee, South Dakota, a passion for Native American History was born.
She has spoken for numerous groups including the University of Michigan, University of Wisconsin-Madison, College of the Menominee Nation, the Kenosha Civil War Museum, Stockbridge-Munsee Band of the Mohicans, and the Oneida Nation of Wisconsin.She has spoken at the University of Wisconsin-Oshkosh for Indigenous Peoples Day 2017. Heather also opened up and spoke at the Women's March Anniversary in Lansing, Michigan in January 2018. She also spoke at the first ever Indigenous Peoples March in Washington, DC in January of 2019. In the summer 2019 and virtually in 2020, she spoke at the Crazy Horse Memorial and Museum in Custer, South Dakota for their Talking Circle Series. She has also become the "accidental activist'' and speaks to different groups about intergenerational racism and trauma and helps to bring awareness to our environment, the fight for clean water and other issues in the Native community. A curiosity of her own heritage led her to Wisconsin, where she has researched the history of the Native American tribes in the area. While Heather calls Michigan home, she has recently moved to Wisconsin and is now the Director of Cultural Affairs for the Stockbridge Munsee Community. In addition to that she also currently travels and speaks on Native American history, including policy and activism.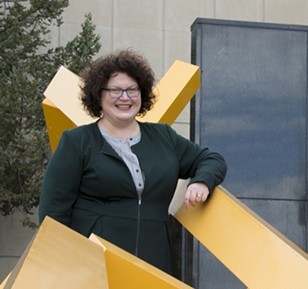 CINNAMON CATLIN-LEGUTKO, Director of the Illinois State Museum (she/her/hers)
Working in museums for more than 20 years, Cinnamon Catlin-Legutko has served as a museum leader since 2001. Prior to joining the Illinois State Museum as director in 2019, Cinnamon was the director of the General Lew Wallace Study & Museum where she led the organization to the National Medal for Museum Service in 2008. She then served as president and CEO of the Abbe Museum where she co-led their decolonization initiative and developed policies and protocols to ensure collaboration and cooperation with Wabanaki people.
Cinnamon served as treasurer for the American Association for State and Local History (2012-2014) and was the founding chair of their Small Museums Committee. She currently serves as a board member of the American Alliance of Museums.
Cinnamon Catlin-Legutko is the author of Museum Administration 2.0 (2016), The Art of Healing: The Wishard Art Collection (2004), and co-editor of the Small Museum Toolkit (2012). In 2016, she gave her first TEDx talk, We Must Decolonize Our Museums(www.tedxdirigo.com). Coming up in 2021 is the release of The Inclusive Museum Leader, a compilation of essays she edited with Chris Taylor and published by the American Alliance of Museums.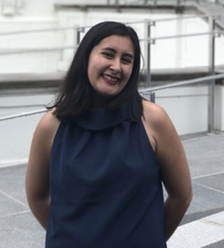 MEGHANLATA GUPTA, Founder of Indigenizing the News (she/her)
Meghanlata Gupta is a current senior at Yale University from Ann Arbor, Michigan. As a citizen of the Sault Ste. Marie Tribe of Chippewa Indians, her work sits at the intersections of Native American and Indigenous histories, education, and journalism. She is the founder and lead editor of Indigenizing the News, a digital organization dedicated to Indigenous news and contemporary experiences.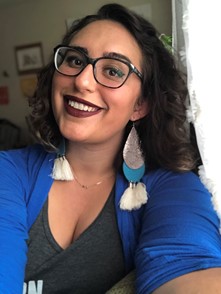 ANNALISA HEPPNER, MA (she/her)
Annalisa is the Project Manager for the Circumpolar Laboratory Inventory Project at the Haffenreffer Museum of Anthropology. She received her undergraduate degree from the University of Tennessee and her master's degree from the University of Alaska Anchorage. She has been an archaeologist for over a decade, with experience all over North America, but especially in Alaska and the Pacific Northwest. Ms. Heppner is passionate about the role of Indigenous people in archaeology and museum management. Her areas of interest within arcaheology include Indigienous archaeology, Feminist archaeology, story-telling as archaeological interpretation, and Decolonial practice in fieldwork and museums.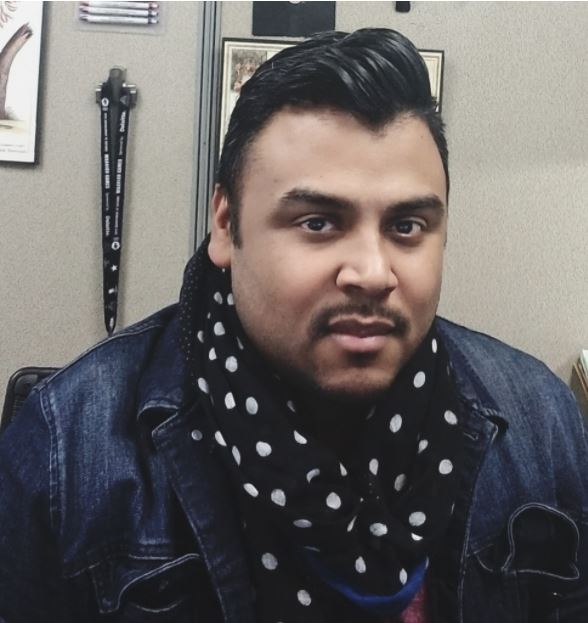 NOEL LÓPEZ, PhD, Washington, D.C. Area Tribal Liaison Officer with the National Park Service (he/him/his)
Noel Lopez is the Regional Cultural Anthropologist and the Regional Tribal Liaison Officer with the National Park Service (NPS), National Capital Area Office. Trained through the Library of Congress' Field School for Cultural Documentation, Noel uses ethnographic research to better understand how people interact with and value public spaces. At NPS he manages the Cultural Anthropology program whose aim is to better understand parks and resources through the lens of their associated communities and provide a space and platform for underrepresented voices. Some of these projects include studies on urban subsistence fishing, Tribal affiliation, and the DC GoGo and Punk music scenes.
Noel holds a PhD from George Mason University where he wrote his dissertation on a Chicago-based group of white Appalachians known as the Young Patriots who became members of the Original Rainbow Coalition: a pact of political unity with the Young Lords and Black Panthers in the 1960s.
Noel was selected as an Edwin C. Bearss History Fellow and is a member of various local and national boards focused on humanities, racial equity, and public spaces. Raised throughout DC, Maryland, and Virginia, today he lives with his wife and three kids in Alexandria, VA.