A First Lady Flees to the Sanctuary of Dumbarton House
On August 24, 1814, Dolley Madison was forced to flee the White House as British troops advanced upon Washington, D.C. in the War of 1812. Charles Carroll, the owner of Belle Vue, as Dumbarton House was then named, called on her in his carriage. Dolley recalled the events in a letter to her sister Lucy Payne Washington Todd:
"Our kind friend, Mr. Carroll, has come to hasten my departure, and is in a very bad humour with me because I insist on waiting until the large picture of General Washington is secured, and it requires to be unscrewed from the wall. This process was found too tedious for these perilous moments; I have ordered the frame to be broken, and the canvas taken out. It is done! and the precious portrait placed in the hands of two gentlemen from New York, for safekeeping.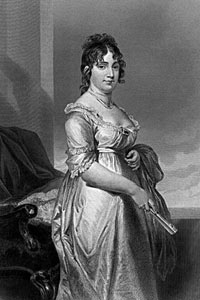 And now, dear sister, I must leave this house, or the retreating army will make me a prisoner in it by filling up the road I am directed to take. When I shall again write to you, or where I shall be tomorrow, I cannot tell!"
– Dolley Madison Papers, Manuscript Division,The Library of Congress
Navy Secretary William Jones had been overseeing preparations to set fire to the Navy Yard, lest its stores fall into the hands of the enemy. He later wrote:
"I left the Navy yard at about half past three o'clock accompanied by Mr. Duval and not long after learned that our army was rapidly retreating and that of the enemy advancing rapidly. We proceeded to Georgetown where I met my family and that of the Presidents at the house of Charles Carrol [sic] Esq of Belle Vue and received a message from the President requesting that I would join him at Foxalls works. At about 5 oclock I set out in company with the family of the President, of Mr. Carrols [sic] and my own, with Mr. Duval and proceeded through Georgetown to join the President but found he had crossed at Masons ferry."
– William Jones Papers, The Historical Society of Pennsylvania
In July, 2012, with funding from the Humanities Council of Washington, D.C., Dumbarton House produced a video on the War of 1812. The film was directed by Diane Williams.