Dining with Dolley
In Dumbarton House's Nourse family letter collection are invitations from President Jefferson, for whom Dolley often served as hostess while James was Secretary of State. Later, President Madison made Charles Nourse the conveyor of dispatches to Great Britain in 1808. One can infer acquaintance, and speculate that Dolley may have bustled out in her carriage to visit the Nourse household, inasmuch as she was an indefatigable social caller.
A First Lady Flees to the Sanctuary of Dumbarton House
The War of 1812 is considered by some historians as the second American war for independence. Caused by economic and trade disputes, as well as the impressment of Americans into the British Navy, the war involved British, Spanish, French, and Indigenous peoples.
President James Madison galloped off to Bladensburg, Maryland with his generals, risking death or capture. He is the only U. S. Commander-in-Chief ever to ride to the field of a major battle. As defeat loomed, he was urged to flee the field, and wisely obeyed. Home was hardly safer. In August 1814, British troops advanced upon Washington D.C. On August 24, Dolley Madison was forced to flee the White House. Charles Carroll, the owner of Belle Vue, as Dumbarton House was then named, called on her in his carriage. Dolley recalled the events in a letter to her sister Lucy Payne Washington Todd:
"Our kind friend, Mr. Carroll, has come to hasten my departure, and is in a very bad humour with me because I insist on waiting until the large picture of General Washington is secured, and it requires to be unscrewed from the wall. This process was found too tedious for these perilous moments; I have ordered the frame to be broken, and the canvas taken out. It is done! and the precious portrait placed in the hands of two gentlemen from New York, for safekeeping.

And now, dear sister, I must leave this house, or the retreating army will make me a prisoner in it by filling up the road I am directed to take. When I shall again write to you, or where I shall be tomorrow, I cannot tell!"

– Dolley Madison Papers, Manuscript Division, The Library of Congress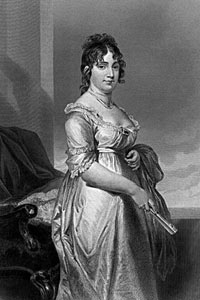 With her sister Anna Payne Cutts's family, and a carriage-full of official papers, red velvet curtains, and silver, Dolley set off down the only road, Pennsylvania Avenue. Fleeing citizens, many angry with what they called "Madison's War," jostled against them. Bridge Street (now M) took the carriage party over Rock Creek into Georgetown. From there, they turned right and climbed the hill. In those days, the Carroll mansion (now Dumbarton House) commanded a broad view of Washington, its forests and surrounding farm land. They could look down on the city they were abandoning to the British: "before they set fire to the Presidents House, many entered it & regaled themselves with Porter wine etc from the cellars!"
Charles Carroll, Dolley's escort on that fateful day in 1814, was a prominent banker, miller, land investor, and cousin of the Signer of the Declaration of Independence, Charles Carroll of Carrollton. He had bought Joseph Nourse's Georgetown home in 1813 and renamed it Bellevue, after his former plantation in Hagerstown, Maryland. The Carroll and Madison families were close. Dolley's son Payne Todd, by her first marriage to John Todd, and the Carroll's eldest son, Henry, were abroad together. The young men were attached to the Peace Commission at Ghent, an American diplomatic effort to end the war.
Navy Secretary William Jones, a Philadelphian, had been in arms since turning sixteen. He had served in the Revolutionary War and the Continental Navy. As Secretary, he had been overseeing preparations to set fire to the Navy Yard, lest its stores fall into the hands of the enemy. He later wrote:
"I left the Navy yard at about half past three o'clock accompanied by Mr. Duval and not long after learned that our army was rapidly retreating and that of the enemy advancing rapidly. We proceeded to Georgetown where I met my family and that of the Presidents at the house of Charles Carrol [sic] Esq of Belle Vue and received a message from the President requesting that I would join him at Foxalls works. At about 5 oclock I set out in company with the family of the President, of Mr. Carrols [sic] and my own, with Mr. Duval and proceeded through Georgetown to join the President but found he had crossed at Masons ferry."

– William Jones Papers, The Historical Society of Pennsylvania
British troops marched in by early evening and set fire to the Capitol and the White House. Following the 98-degree heat of the day, a late night thunder and lightening storm erupted – so savage that British and Americans alike were shocked. Torrents of rain put out the fires, but left sodden wrecks in their wake. The White House was in ruins.
The First Lady fled the city, crossing the Potomac at Little Falls Bridge. She spent the night at Rokeby, owned by an old friend, while the President put up at Salona, the Reverend Maffitt's red brick house in McLean. The second night they were reunited at Wiley's Tavern in Fairfax County. The President and his men continued scouting, and spent the final night at Brookeville, Maryland. In searching for his wife, and watching for the enemy, 63-year-old James Madison spent almost 4 days in the saddle. For a man who had been too frail to face bullets in the Revolutionary War, this was a triumph of will. He foiled capture and kept the national government functioning. Dolley had safely returned to the Cutts's Washington House by August 27, where her husband joined her. The presidential couple resumed their former life, moving a month later to the elegant, undamaged Tayloe residence, the Octagon House, one block from the burned out White House.
In July, 2012, with funding from the Humanities Council of Washington, D.C., Dumbarton House produced a video on the War of 1812. The film was directed by Diane Williams.
The Intersecting Lives of Dolley Payne and Anthony Morris
In May of 1816, Joseph Nourse's son Charles married Rebecca Wistar Morris, daughter of Anthony Morris (1766-1860), a Philadelphia lawyer, merchant, and lifelong friend of Dolley. There are fourteen letters in the Nourse collection written by Dolley to Morris, his wife Mary, daughters Phoebe, and Nourse granddaughters Mary and Caroline.
In 1790, both Dolley Payne and Anthony Morris were married in Philadelphia – the capital of the new country – where everybody knew everybody. Dolley's parents, Mary and JOhn Payne, were Quakers from Hanover COunty, Virginia. Anthony Morris was among the eighty-two Quaker witnesses at Dolley's first marriage, on January 7, 1790 to the eminently suitable John Todd. Four months later, Morris married Mary Smith Pemberton, an equally exemplary Quaker, whom Dolley calls "my beloved friend" in a letter.