Announcement
Due to the surge in COVID-19 case numbers in the DC area, Dumbarton House will remain closed to the public through February in an effort to protect staff, visitors, and our community. We hope to reopen for visitors in March but will continue to monitor the situation as it develops.
Open Friday through Sunday
In 1790, a swampy spot near the Potomac River was chosen to be the new United States capital. However, it was made into a city …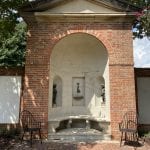 Preservation requires understanding the history and construction of the object or structure being preserved if it is to be done correctly. If not careful, our …
Experience Dumbarton From Your Home
Join us in our mission to promote historic preservation, educate the public on early American history, and enhance the cultural life of our nation's capital.