Temporarily Closed
Dumbarton House Museum and NSCDA Headquarters are temporarily closed for construction on the museums and office spaces. Join us again in the spring to see all the changes made over the winter, or join us virtually during our winter programs! Thank you for your patience and continued support!
Open Friday through Sunday
In 1790, a swampy spot near the Potomac River was chosen to be the new United States capital. However, it was made into a city …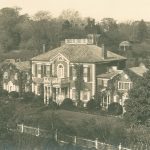 In 1927, the National Board of The National Society of the Colonial Dames of America (NSCDA) approved that the Society should "acquire an old, historic …
Experience Dumbarton From Your Home
Join us in our mission to promote historic preservation, educate the public on early American history, and enhance the cultural life of our nation's capital.