COVID-19 Announcement
Following recommendations from the District of Columbia, Dumbarton House is no longer requiring proof of vaccination or the use of masks while indoors. Dumbarton House will continue to monitor the updates coming from Mayor Bowser and make changes as they are recommended by the city. Please note that by visiting Dumbarton House you voluntarily assume all risks related to exposure to COVID-19. Masking indoors or among large crowds is much appreciated by those who are unable to accept the vaccine on account of health or age. Please, help yourself to a complimentary mask if you wish to use it. Thank you for keeping families safe.
Open Friday through Sunday
In 1790, a swampy spot near the Potomac River was chosen to be the new United States capital. However, it was made into a city …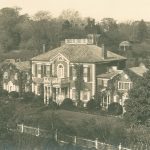 In 1927, the National Board of The National Society of the Colonial Dames of America (NSCDA) approved that the Society should "acquire an old, historic …
Experience Dumbarton From Your Home
Join us in our mission to promote historic preservation, educate the public on early American history, and enhance the cultural life of our nation's capital.