Visit Dumbarton House with Your School
Dumbarton House offers educational field trips for students from Kindergarten through 8th Grade. Our field trips are tailored to meet the Common Core School Standards as well as DC and Virginia school standards. At the moment, all group programs are virtual.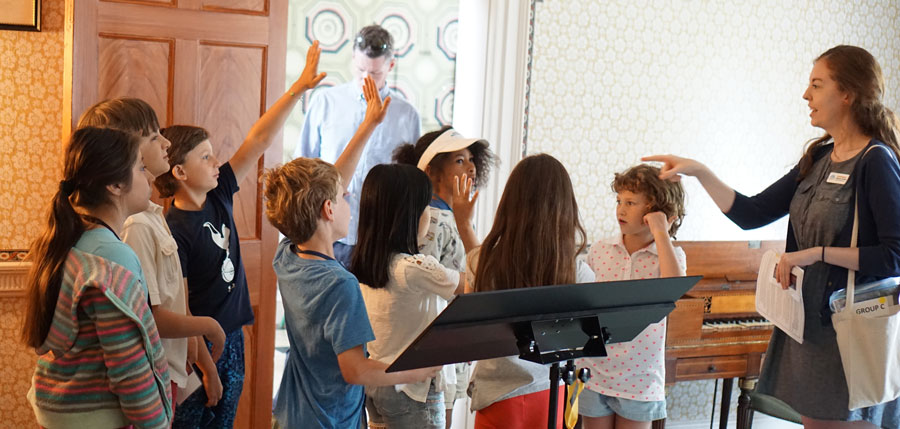 Pricing
School field trips cost $4/student. A $25 deposit is required to confirm your field trip and the balance is due upon arrival. D.C. Public & Charter Schools are free of charge.
Registration
To register for a field trip, please complete a field trip request form. School programs are available Monday through Friday. All programs have a minimum requirement of 8 students. A maximum of 40 students can be accommodated per field trip. If you have a larger group, please contact the Education Department to discuss available options.
Programs

Capital Quest: Students become history detectives on this quest through Washington D.C.'s past. By spying for clues, examining primary sources, and strengthening map skills, students will uncover the rich history of the nation's capital. Discover why Washington D.C. was chosen as the capital city and explore the lives and ideals of early Americans who shaped the nation. In addition to an interactive tour, a supplemental activity packet is provided. Length: 1 hour.
Parthenon to Portico: What does America have in common with Ancient Greece? Students learn how America was influenced by this great civilization by comparing Classical Greek and American ideals of government, art, and architecture. Using a supplemental activity packet and elements of Classical Greek architecture and their own imagination, students can design a public structure. Length: 1 hour.
Homeschool Groups and Learning Pods
Dumbarton House offers a number of homeschool programs if requested one month in advance. These programs cover various seasonal topics about life in the early capital city. Programs include:
School and Fun: What was life like for children in the Federal period?
Harvest Time: What did people eat and where did they get food 200 years ago?
Patriotism and Presidents: Learn about American history and symbolism.
Time Travelers: Explore what life was like 200 years ago by using all your senses.
Winter Warmth: Learn about how people stayed warm before central heating.
Parthenon to Portico: Discover the Classical Greek and Roman influences on Dumbarton House and other buildings.
Communication Through Time: Practice the art of letter writing and learn about the postal system.
Art at Dumbarton: Use close-looking skills to learn about artistic techniques using the art in our collection.
Pricing
For homeschool programs, the cost is $7/child. There is a minimum cost of $70 (7 children). Maximum capacity: 40 children.
The Museum's programs are available to all students as the hands-on programs are developed to connect with all learning styles. Given enough notice, Museum Educators can adapt programs to fit the specific needs of your students. The museum is wheelchair accessible.
Explore Early American History From New Perspectives
From art to cooking to technology, there's something for everyone at Dumbarton House.