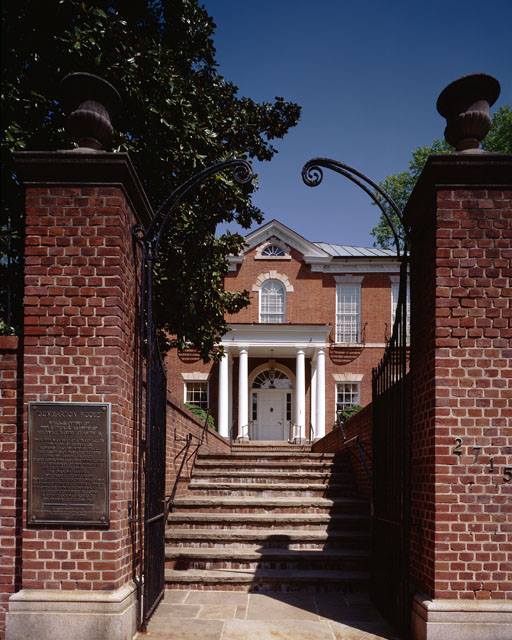 Experience early American history and culture at Dumbarton House
Self-guided tours are available Friday through Sunday. You can book reservations online or by phone, but advance tickets are not required. Walk-ups are welcome and we accept cash and all major credit cards. If you are reserving free tickets, we can only allow you to reserve them for one time slot per day.
Masks are required. Please read more about how we are ensuring the safety of staff and visitors in our safety precautions section below.
Please note, the visitor center closes at 2:45pm and the museum closes at 3pm. We recommend spending at least 30 minutes in the museum, so please arrive by 2:30pm. 
Refunds are issued only in the case of illness. If you cannot make your original reservation, we would be happy to reschedule you.
Virtual group tours are available for parties of 5 or more.
Friday through Sunday
10:00am to 3:00pm
(last museum entry is 2:45pm)
Our grounds are open every day from dawn to dusk, free of charge! Please consider making a donation to Dumbarton House to ensure the continued beauty and availability of our gardens. 
Monday-Thursday (year round)
Month of January
New Year's Day (January 1, 2021)
Independence Day (July 4, 2021)
Thanksgiving (November 25, 2021)
Holiday (December 19-31, 2021)
*For weather-related closures, we follow D.C. Public Schools schedule.
$10 – General Admission
$8 – AAA Members, Civil Servants, National Trust Members
Free – Museum & NSCDA Members, Children & Students (with ID), AAM, NARM, HHMC, US Treasury Employees, Active Military and family (Blue Star Museum Admission)
If you have trouble purchasing tickets online, please call (202) 337-2288 ext. 2242
For your safety and the safety of our staff:
Face coverings are required at this time for staff and visitors in indoor spaces
Please maintain a distance of 3' or more from other parties

Bring a water bottle and snack: we have a water bottle-filling station on site but no food services

Hand sanitizer is available
Increased sanitization schedule has been implemented for all public areas and surfaces
All docent-led tours have been suspended for the time being
We ask any visitors who feel unwell, have a fever or other symptoms to please stay home. We will be happy to refund your visit or honor your ticket for a future date if you are ill.
Dumbarton House is committed to promoting the use of sustainable transportation as a way to reduce local traffic congestion, air pollution, and greenhouse gas emissions.
Metrorail: 
Dupont Circle Station (Red Line) – Q Street exit, the house is approximately six blocks west on Q ST, NW,a short walk or ride on the D2 or D6 bus lines. For more information about Metrorail and m
aps, the WMATA website.
Metrobus: D1, D2, D3, D6 and G2 buses stop nearby. For more information, visit the WMATA website.
DC Circulator: Dupont Circle-Georgetown-Rosslyn route stops at 28th & M ST, NW, or 28th ST & Pennsylvania AVE, NW, depending on direction traveled. Georgetown-Union Station route stops at Q ST & Wisconsin AVE, NW. Continue east on Q ST, NW, by foot. For more information about DC's local bus service, visit the DC Circulator website.
Bicycle: We have a bicycle rack at the corner of 27th ST, NW & Q ST, NW
Dumbarton House is fully ADA accessible. Handicapped parking is available in our parking lot, located off 27th Street, just north of Q Street.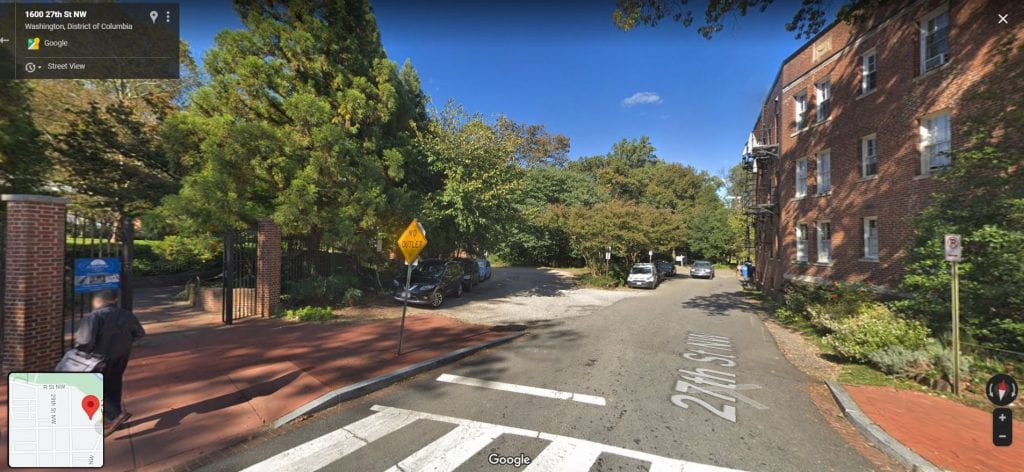 Get to know Dumbarton House
Explore Dumbarton House without leaving your home.
In the Neighborhood
Explore nearby attractions and museums