DKMC Walk Weekend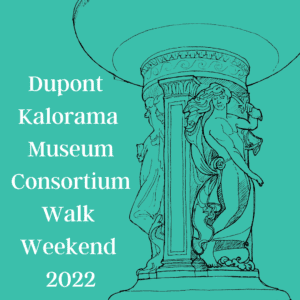 Stretch your legs and your mind during the Annual Dupont Kalorama Museum Walk, June 4 and 5, 2022! 
Please note that each institution requires their own registration to enter or tour the site. We recommend that you use the links for each institution listed below to secure admission to each location.
We're so excited to bring Walk Weekend back this June after a two-year hiatus with a NEW site added to our lineup! DKMC was founded in 1983 to pursue the mission of supporting our member institutions and creating neighborhood cultural experiences while drawing attention to the fabulous "off the Mall" destinations. During Walk Weekend, the first Saturday and Sunday in June, each of our institutions is open for FREE! These include Dumbarton House, Woodrow Wilson House, Phillips Collection, Anderson House, the National Museum of Jewish American Military History, and the Dupont Underground.
Please note, if you wish to enter a museum while visiting the neighborhood, we recommend that you familiarize yourself with each museum's visitor safety requirements and site-specific attractions.
Institutions:
View our new exhibition on Jewish American military service during the Vietnam War and learn about unique experiences of individuals serving in wartime. Meet veterans of different conflicts in American history. Join us in celebrating Shabbat on Saturday and Shavuot on Sunday.
The Phillips Collection (1600 21st St. NW)
Founded by art collector and philanthropist Duncan Phillips in 1921, The Phillips Collection has been collecting groundbreaking works of modern and contemporary art for one hundred years. Duncan Phillips's former home—and modern additions to it—provide a unique setting for the collection's nearly 6,000 works.
Free admission to The Phillips Collection includes the first floor and lower levels of the Goh Annex, Museum Shop and Sculpture Courtyard. To see additional exhibitions and collection galleries, visitors must purchase a timed ticket. Advance reservations are strongly recommended; weekend entry times regularly sell out.
https://www.phillipscollection.org/
The Woodrow Wilson House (2340 S St. NW)
See the historic home of our 28th President, a perfectly preserved time capsule from the 1920s, then visit the gallery for our special exhibition Suffrage Outside, Inside: the 19th Amendment at 101!
https://www.woodrowwilsonhouse.org/
Anderson House – The American Revolution Institute of the Society of the Cincinnati (2118 Massachusetts Ave NW)
Tour the headquarters of the American Revolution Institute of the Society of the Cincinnati—a Gilded Age mansion originally completed in 1905 —at your own pace in addition to exploring the special exhibition, Saving Soldiers: Medical Practice in the Revolutionary War.
https://www.societyofthecincinnati.org/
Dumbarton House – Museum and Headquarters of the NSCDA (2715 Q St. NW)
After exploring our period rooms – decorated to look as they did in 1804 – learn about ten women making strides in the historic preservation field through our exhibition Power in Preservation, closing at the end of June, and make your own preservation-themed craft!
Dupont Underground (19 Dupont Circle NW)
Dupont Underground is transforming a long-abandoned streetcar station under Dupont Circle into a cultural platform aiming to inspire and strengthen thought-provoking dialogue among artists and the community. In June, they are hosting their exhibit with the Washington Blade Newspaper, The Gender Within: The Art of Identity.