Historic House Museums Respond to Crisis Lecture Series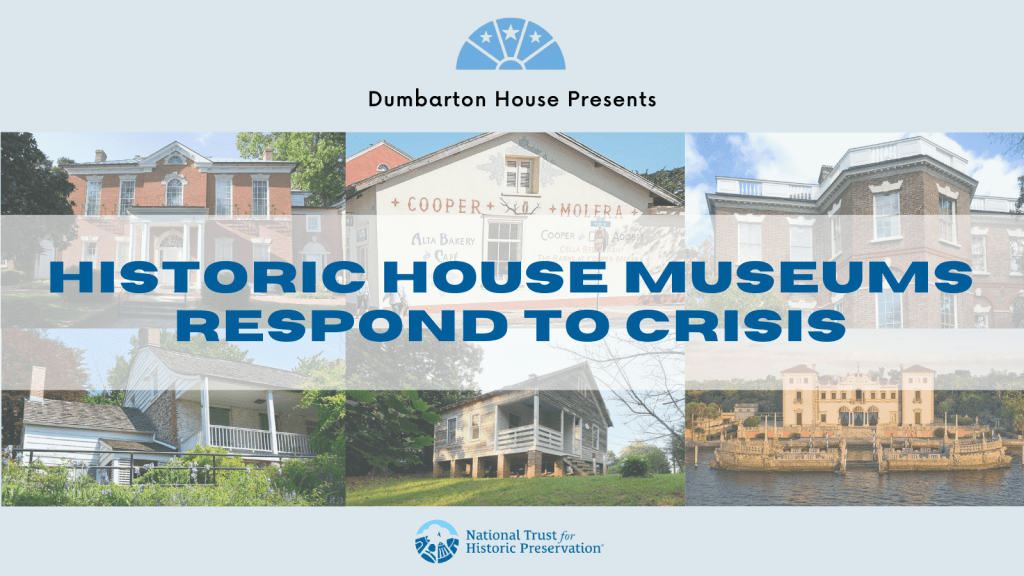 Historic House Museums Respond to Crisis features six speakers addressing how historic house museums are responding to the urgent needs created by climate change, the COVID-19 pandemic, and social justice movements.
---
FAQS:
How much is it? This event is free thanks to funding from the National Trust for Historic Preservation!
Will I be able to ask questions? Yes! We will have a question and answer period at the end of every session and encourage people to ask questions.
Can I watch some of the sessions later? Yes, each session will be recorded and available on our YouTube page.
How many sessions can I sign up for? Feel free to sign up for any or all sessions!
See the full schedule below!
June 24: Climate Change – Sarah Sutton, Sustainable Museums
Sarah Sutton, author of Environmental Sustainability at Historic Sites and Museums and Principal of Sustainable Museums, will talk about some of the expected and unexpected ways house museums help the public and museum professionals address climate change. She will be mentioning Dumbarton House, Vizcaya Museum and Gardens, and Lyndhurst Mansion, among other institutions. Watch Sarah's presentation now!
July 8: Pandemic Response – Katherine Malone-France, National Trust for Historic Preservation
Katherine Malone-France, Chief Preservation Officer at the National Trust for Historic Preservation, will share how trust sites like The Cooper Molera Adobe have weathered over a year under pandemic restrictions to emerge stronger than ever. Historic places are inherently resilient and the work of preserving them is most effective when it is centered on our hopes for the future, rather than a static notion of the past. The interrelated challenges of a global pandemic and a national reckoning on race and equity have tested and proven these assertions at many types of historic places around the country. Katherine will discuss how we carry forward lessons learned and new ideas to strengthen our cultural and economic infrastructure through historic preservation. Watch Katherine's presentation now!
July 22: Social Justice – Grahame Long, Nathaniel Russell House
J. Grahame Long, Director of Museums at the Historic Charleston Foundation will discuss how modern materials within the Nathaniel Russell house's kitchen and quarters have been peeled back, a process that revealed original construction and new data once thought lost. These discoveries at last are providing crucial representation to the enslaved who once toiled there. Constructed circa 1808, a rear outbuilding of the Nathaniel Russell House originally held a cook room, a laundry, and three living chambers for its enslaved. It was said, however, that mid-20th century renovations had destroyed all remnants of its original fabric. Those beliefs were false. Watch Grahame's presentation now!
August 5: Social Justice – Meredith Horsford and Richard Tomczak, Dyckman Farmhouse Museum
The Dyckman Farmhouse Museum (DFM) has spent the last few years focusing on expanding their narrative. Like many traditional historic sites, DFM had previously focused on the history of the wealthy white landowners. Through a grant from The New York Community Trust, the organization has been able to rethink the story that it shares with the community both inside and outside of the museum. Meredith Horsford, Executive Director of the Dyckman Farmhouse Museum, and Richard Tomczak, professor at Stony Brook University, will share how the museum now highlights the experience and lives of people that were enslaved by the Dyckman family, even during the global pandemic. Watch Meredith and Richard's presentation now!
August 19: Climate Change – Remko Jansonius, Vizcaya Museum and Gardens
Remko Jansonius, Deputy Director at Vizcaya Museum and Gardens, located on Biscayne Bay in Miami, Florida, will talk about the challenges to protect this National Historic Landmark against hurricanes and sea level rise, and about Vizcaya's role in raising awareness around the topic of climate change. Watch Remko's presentation now!
September 2: Social Justice + Pandemic Response – Tiffany Tolbert, Nina Simone Childhood Home
Tiffany Tolbert, Associate Director of the African American Cultural Heritage Action Fund at the National Trust for Historic Preservation, will share information about how how the National Trust is working with national and local partners to rehabilitate, protect and develop a community based reuse plan and stewardship model which honors the legacy of Nina Simone and preserves the home as a site of inspiration for future generations of artists and activists.  Learn more at www.savingplaces.org/ninasimone Watch Tiffany's presentation now!