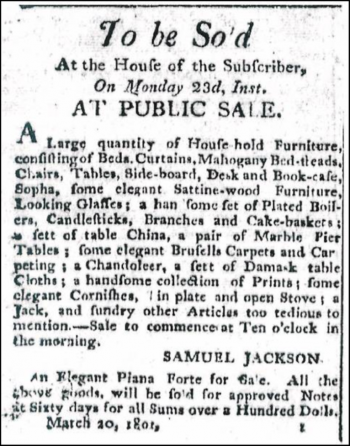 While Dumbarton House bases much of its interpretation around its understanding of the Nourse family, there is a another entity who holds outsized influence on the house's history. The property's very existence owes itself to the merchant and speculator Samuel Jackson, a figure who is equally interesting and elusive. His brief residency in Georgetown, motivated by his development of the Dumbarton House property (known to him as Belle View), is a fascinating prelude to Joseph Nourse's acquisition of the house. This 1798 to 1800 period in Jackson's life is a whirlwind of financial desperation, characterized by his construction of Dumbarton House, seizure of his Philadelphia home, and renting and sale of Dumbarton House before resettling in Tennessee.
Understanding the boom Jackson experienced in the early 1790's contextualizes this later bust. This period saw Jackson enriched by a mercantile partnership with John B. Evens which centered around shipping goods to the developing state of Tennessee. Additionally, during this time he began more heavily speculating in both land and government debt instruments. As the mid-1790's gave way to more modest economic times not only did Jackson begin encountering financial difficulty, but many of his peers were subject to imprisonment for their debts. It was during this difficult time in 1798 that Jackson moved from his Philadelphia home to the new city of Washington. While Jackson's rationale is not fully known, it is likely that his construction of a new grand house in Georgetown was a front to appear credit-worthy, rather than a long-term desire to reside in Washington.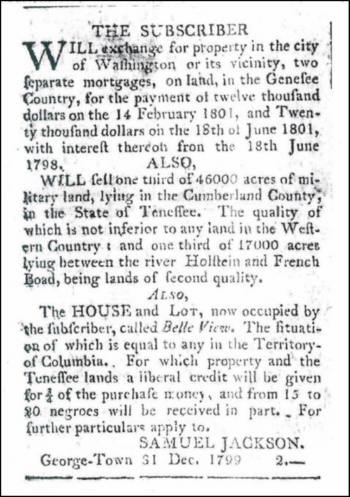 Here Jackson purchased four and an eighth acres of land from Isaac Polock for a total of $3,000. Soon after he began the planning and construction of Dumbarton House with an unknown architect. During this time he and his family resided at a Georgetown inn, his wife giving birth there "surrounded by strangers." Jackson's financial strain and debts are evident at this time, the Philadelphia sheriff seizing and auctioning his house there after a suit by his creditors. Immediately after the completion of Dumbarton House in June of 1799 a cash-strapped Jackson mortgaged the new property to a William Shannon for $5750. Further complicating this already quick paced property shuffle Jackson then proceeded to purchase land in Tennessee. From here a string of newspaper advertisements from Jackson best illustrate his evolving situation.
The newspaper advertisement on the right was posted in December of 1799. It advertises the sale of not only Dumbarton House, but a portion of his Tennessee property as well. After this advertisement the house was purchased by a Philip Fitzhugh in June of 1800. In November the same year, Jackson posted another advertisement offering to rent the house, which he still occupied under the ownership of Fitzhugh. The final advertisement in this saga (found on page 5) comes from March of 1801, when Jackson advertised an auction of Dumbarton House's furniture. A particular detail is that the auction is listed as being held only three days after the posting of the ad, indicating an element of haste. This is further validated by Fitzhugh's sale of the property not more than a month later, leading Jackson and his family to move to his mother-in-law's house in Westmoreland County Virginia before moving on to firmly settle in his Tennessee property by 1802.
However, even with Jackson out of Washington his decisions continued to impact the history of Dumbarton House. The responsibility of the mortgage he had given to William Shannon was passed on to the house's purchaser and became due in June of 1801. With the purchaser unable to pay, the house then passed to the holder of the mortgage, which Shannon had sold to the United State Government. By 1802 the United States put the house up for auction, where it was purchased by Comptroller of the Treasury Gabriel Duvall. By 1804 the property would finally end up in the hands of Joseph Nourse. (Adapted from The Early History of Dumbarton House, 1798-1804)