1703 The Maryland Assembly grants Scottish immigrant Ninian Beall a tract of 795 acres for his services "[against] all incursions and disturbances of neighboring Indians." Beall names the property "Rock of Dumbarton," after the distinctive geologic feature near Glasgow in his native Scotland.
1717 Ninian Beall dies and the property descends in the family.
1751 The Maryland Legislature charters a new town, named George-Town, that includes part of the original Rock of Dumbarton.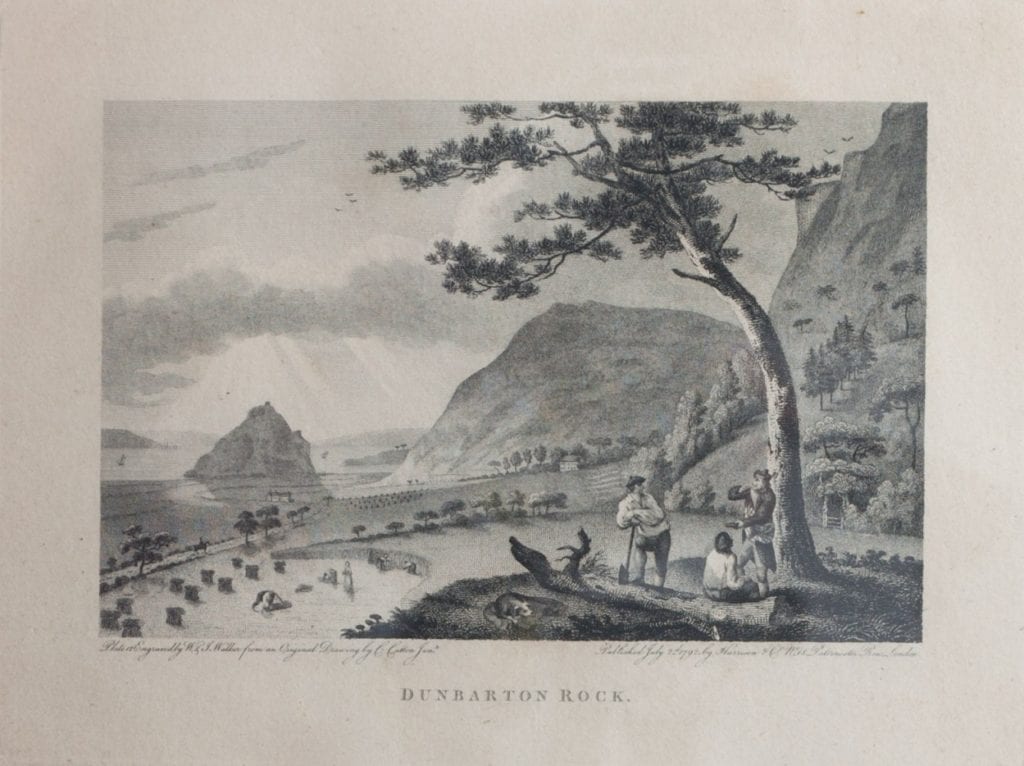 1796 Thomas Beall, grandson of Ninian, sells approximately four acres of his inheritance (where Dumbarton House now stands) to Peter Casenave, mayor of Georgetown. After two months, Casenave sells to General Uriah Forrest for 20 percent more.
1797 Forrest sells to Isaac Polack for five times what he paid for it.
1798 Polack sells to Samuel Jackson, a merchant from Philadelphia, for less than half what he paid.
1799 Jackson builds a large "two-story brick house with a passage through the center, four rooms on a floor and good cellars" just before our nation's capital is moved from Philadelphia to Washington. Jackson mortgages the property.
1804 The United States, having acquired the mortgage, sells the property at public auction. Joseph Nourse purchases the property for $8,581.67 as a home for his family.
1813 Nourse sells the property to Charles Carroll, a cousin of the signer of the Declaration of Independence. Carroll names the house Bellevue, after his former plantation near Hagerstown, Maryland.
1814 On August 24, Charles Carroll, at President James Madison's request, goes to the president's house to urge Dolley Madison to leave, as the Americans are retreating from Bladensburg and the British will soon be entering Washington. Dolley, together with Eleanor Jones, wife of the Secretary of the Navy, flees to Carroll's Bellevue, before going to Virginia to meet Madison.
1815 Carroll vacates Bellevue and over the course of the next 26 years it is occupied by a succession of tenants.
1841 Charles Carroll's heirs sell the house.
1915 Bellevue is moved about 100 feet to the north. The house had always been located in the middle of today's Q Street. With the construction of the Dumbarton Bridge connecting Q Street in Washington and Georgetown, however, it was decided that that street should also be made continuous within Georgetown. To avoid demolishing the unfortunately located Bellevue, the house was moved out of the way to its present site.
1928 The National Society of The Colonial Dames of America purchases the property.
1932 The property opens as Dumbarton House, a Federal period historic house museum and headquarters of The National Society, following restoration of its Federal character under the direction of Horace Peaslee, second vice president of the American Institute of Architects, and nationally renowned architectural historian Fiske Kimball.